More than 100 research projects were carried out in 2011 at SKLEC, including 48 new projects granted. Among them, 42 projects of national level totaled 17 million RMB, 21 provincial and ministerial level projects 9.9 million RMB, 30 enterprise projects 4.6 million RMB, and 8 international cooperation projects 1.3 million RMB. In addition, SKLEC received a special funding of 9 million RMB from the Ministry of Science and Technology (MOST) of China, among which 5 million RMB was targeted at scientific research, and 4 million RMB for administration and operation of SKLEC. And a special funding of 5.5 million RMB for instrument purchasing was granted from MOST. The "111 Project" "Sustainability of Water Resources in Estuarine and Coastal Environment" received 1.8 million RMB from the Ministry of Education (MOE) and the State Administration for Foreign Expert Affairs (SAFEA) of China.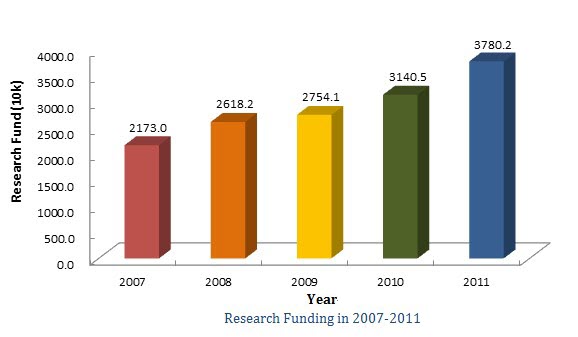 Brief Introduction of Selected Key Projects
National Basic Research Program ( "973" Project): Sustainability of Marine Ecosystem Production under Multi-Stressors and Adaptive Management (2011.01-2015.12)
The project was headed by Prof. Zhang Jing. The partners are Yellow Sea Fisheries Research Institute of Chinese Academy of Fishery Sciences, Ocean University of China, the Second Institute of Oceanography of State Oceanic Administration of China, Institute of Oceanology of Chinese Academy of Sciences, and Xiamen University. It comprises 5 sub-projects: 1) biogeochemical process of typical ecological system; 2) response of nutrients cycling to multi-stressors and its feedback; 3) response of physical environment in marginal sea to multi-stressors and its impact on nutrients supply; 4) coupling between microbial food loop and biogeochemical cycle; 5) impact of human activities and climate change on typical ecosystem and the feedback mechanism.
NSFC Creative Research Groups Fund: Land-Sea Interaction in the High Turidity Estuaries and Its Adjacent Sea (2011.01-2013.12)
This project was headed by Prof.Zhu Jianrong as a continual support from the NSFC. The study region was focused on the Yangtze River Estuary and its adjoining sea. The research topics included: 1) characteristics of water/sediment transportation in the reach downstream of the Three Gorges Dam and their spatial/temporal variations, material exchange between the main stream and branches and its effect on downstream and estuary; 2)sedimentary dynamics and morphodynamic processes of the Yangtze River Delta; 3) the response of hydrodynamics, biogeochemistry and deposition process of the Yangtze River Estuary and adjacent sea area to change of shelf circulation and runoff of the Yangtze River.
Science and Technology Commission of Shanghai Municipal Government Major Project:Formation Mechanism of the Eastern Hengsha Shoal of the Yangtze River Estuary and Development Strategy of the Adjacent Sea (2011.12-2013.09)
The project was headed by Prof. Chen Jiyu. The partner is Shanghai Waterway Engineering Design and Consulting Co., Ltd. Taking into account the water continuum of river basin, estuary and sea, the project focuses on the formation process of Hengsha Shoal, in a context of significant water and sediment discharge variations in the catchment. The project will propose a planning and development strategy of Hengsha Shoal and provide scientific support for sustainable resource use.