Prof. dr. Gert de Lange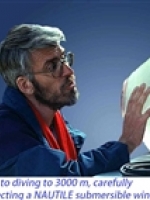 Research Interests:
Marine Geochemistry and Chemical Oceanography
Education Experience:
B.Sc. Chemistry at Groningen University
M.Sc. Chemistry (major); Geology (auxiliary); both at Groningen University
Ph.D. Thesis " Geochemical and early di agenetic aspects of interbedded pelagic / turbiditic sediments in two N. Atlantic abyssal plains" at Utrecht University
Personal Details:
Early diagenetic alteration of paleo proxies, the interpretation of elemental variations related
to climatic fluctuations in marine sediments, as well as brine composit
ions related to equilibria and origin, redox related changes across seawater/brine interfaces, and origin and
related isotopic composition of methane and porefluid in mud volcanoes are amongst his
main fields of interest
Editor-in-Chief of Marine Geology.