Sixty new projects were granted in 2013 with a total fund of 32.12 million RMB. Among them, more than 30 projects were awarded from national or provincial funding agencies, which total 25.66 million RMB. In addition, SKLEC received special funding from the Ministry of Science and Technology (MOST) of China, among which 4.75 million RMB was targeted at scientific research, 3.8 million RMB for administration and operation of SKLEC, and 3.7 million RMB for equipment and infrastructure construction. SKLEC also received equipment and infrastructure funding (5.3 million RMB) through the scheme of ECNU "985" project. The "111 Project" "Sustainability of Water Resources in Estuarine and Coastal Environment" received 1.8 million RMB from the Ministry of Education (MOE) and the State Administration for Foreign Expert Affairs (SAFEA) of China.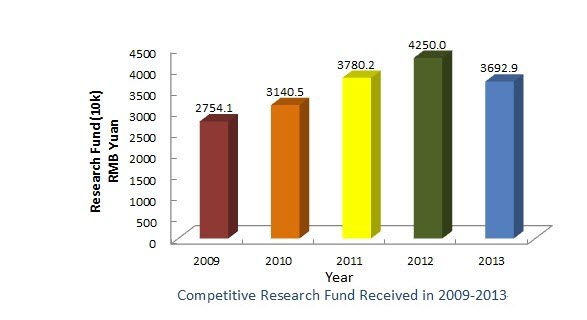 Brief Introduction of Selected New Project
Key Project of MOST Fundamenta l Project Special Fund: Hydrodynamic, Sedimentological and
This project was carried out jointly by East China Normal University, Ocean University of China, Institute of Geographic Sciences and Natural Resources Research of CAS, Sun Yat-Sen University, and Research Institute of Water Resources, Pearl River Water Resources Commission of the Ministry of Water Resources. Taking the estuaries of the three largest rivers in China, i.e., the Yangtze River, the Yellow River the Pearl River, as the study areas, this project aims to carry out integrated hydrodynamic, sedimentological and geomorphological survey in the context of current fluvial sediment and water discharge changes and intensive human activites within the estuarine areas. The obtained baseline data will provide scientific support for disaster prevention and mitigation, resources utilization and sustainable development of estuarine regions.