SKLEC, ECNU delegates visiting the National Institute of Oceanography, Pakistan
  Four delegates from the State Key Laboratory of Estuarine and Coastal Research, East China Normal University visited the National Institute of Oceanography (NIO), Pakistan during May 13-19, 2012. A bilateral workshop was held to further discuss about future cooperation in the field of estuarine and coastal research. This is a follow-up after the NIO delegation's visit in Shanghai in December, 2011.
  Based on the presentations of current research from both sides and field investigation to the River Indus delta including its mangroves, tidal creeks, upstream to Sajawal Thatta, focus of joint research was defined. Research funding will be applied from both sides.
  The National Institute of Oceanography is located in Karachi. It was established in 1981 and is administratively under the Ministry of Science and Technology, Government of Pakistan. The institute has multi-disciplinary approach towards Physical Oceanography, Biological Oceanography, Chemical Oceanography, and Geological and Geophysical Oceanography. It also manages the National Oceanographic Data Centre (NODC). The institute has collected valuable information about water and sedimentation flux of the Indus River, evolution of the Indus estuary, and coastal ecosystems. Many research results have been published in internationally recognized journals. These will become a sound basis for future comparison studies among large river estuaries from China and Pakistan.
  The SKLEC delegates also visited the Chinese engineering team responsible for the Karachi Port expansion project, and had a discussion about problems encountered during the port construction.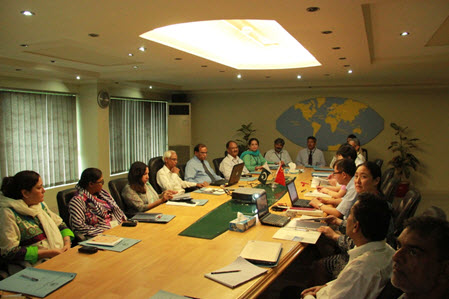 Workshop held in the National Institute of Oceanography, Pakistan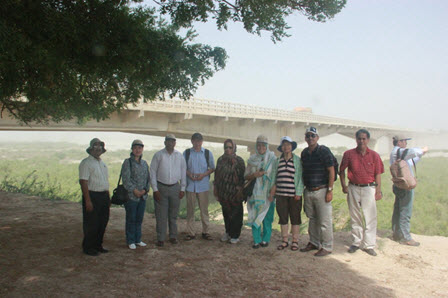 Field trip to the Indus River upstream, Sajawal Bridge, District Thatta
Group photo taken in front of the NIO building