Wang Xianye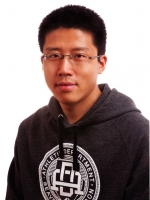 Research Interests:
Hydraulics and River Dynamics
Sediment Dynamics on Estuary and Coast
Address:
Zhongshan N. Road 3663,Shanghai 200062, China
Education Experience:
2000.9-2004.6: Sichuan University, Water Resources and Hydropower Engineering, BSc
2004.9-2007.6: Sichuan University, Hydraulics and River Dynamics, MSc
2007.9-2010.8: City University of Hong Kong, Hydraulics and River Dynamics, PhD
Work Experience:
2010.09-: SKLEC, East China Normal University, Assistant Professor
Projects:
Managed Projects:
[1]. 2013.1.1-2015.12.31 Effect of flow structure on sediment distribution and micro-landform (MESTDC 20120076120020), PI
[2]. 2012.10.1-2015.9.30 Effect of wave and tidal flow turbulence on sediment inception and re-suspension (STCSM 12ZR1443200), PI
Paper:
1. X. Y. Wang, Q. Y. Yang, W. Z. Lu, X. K. Wang. (2012) Experimental study of near-wall turbulent characteristics in an open-channel with gravel bed using an acoustic Doppler velocimeter. Experiments in Fluids, 52(1): 85-94.
2. Xianye Wang, Yi Sun, Weizhen Lu, and Xiekang Wang. (2011) Experimental Study of the Effects of Roughness on the Flow Structure in a Gravel-Bed Channel Using Particle Image Velocimetry. Journal of Hydrologic Engineering. 16(9): 710-716.
3. Xianye Wang, Qingyuan Yang, Weizhen Lu, XiekangWang. (2011) Effects of Bed Load Movement on Mean Flow Characteristics in Mobile Gravel Beds. Water Resources Management, 25(11): 2781-2795.
4. Yang Qing-Yuan, Wang Xian-ye, Lu Wei-Zhen, Wang Xie-kang. (2009) Experimental Study on Characteristics of Separation Zone in Confluence Zones in Rivers. Journal of Hydrologic Engineering, 14(2): 166-171.