Richard Bellerby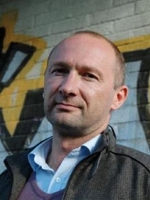 Research Interests:
Carbon Biogeochemical Cycles
Assessing Ocean Acidification
Address:
3663 Zhongshan Road(N.), Shanghai 200062 P.R. China
Academic Position:
Leader of SCAR Action Group on ocean acidification, 2010-present
Leader AMAP Working Group on ocean acidification, 2010-present
SSC member SCAR Integrated climate and ecosystem dynamics (ICED), 2009-present
SCOR/SCAR expert group in Oceanography, 2006-2011
SCAR SOOS implementation group, 2007-2011
SCOR SOAR Standards for Ocean Acidification Research advisory group, 2008-2010
Editorial Position :
Biogeosciences – Guest Editor for Special Issue on "The Ocean in a high CO2 world"
Deep-Sea Research II – Guest Editor for Special Issue on "Biogeochemical cycling and ecosystem dynamics of the Barents Sea in an era of climate change"
Education Experience:
1994, PhD, University of Plymouth and the Plymouth Marine Laboratory, UK
1990, BSc Hons, Polytechnic South West, Plymouth, UK
Work Experience:
2015-Present, director for SKLEC-NIVA Centre, SKLEC, ECNU,China
2012-Present, Research Coordinator, Norwegian Institute for Water Research, Bergen, Norway
2001-2012, Senior Researcher / Research leader, Bjerknes Centre for Climate Research, Norway
2000-2012, Researcher / Associate Professor / Professor II, Geophysical Institute, University of Bergen
1999-2000, Higher Scientific Officer, Plymouth Marine Laboratory, UK
1998-1999, Researcher, University of Bergen, Norway
1996-1998, Senior Research Associate, University of East Anglia, UK
1995, Post Doc, Woods Hole Oceanographic Institution
PG Students (Both masters and PhD) Recruitment: Students majoring in Modeling, Marine Science, Biogeochemistry, and other relative majors are welcome. Priority to the students who are very competent in mathematics but has, preferably, some courses in environmental science. Chosen ones would have the opportunity to go on cruises and spend time at international laboratories/universities for training and academic communication.
Projects:
Managed Projects:
EU Framework VII: MEECE. Marine Ecosystem Evolution in a Changing Environment (PI)
EU Framework VII: EUROBASIN. North Atlantic Biological Pump Carbon Cycle (Lead PI)
EU Framework VII: ECO2. Sub-seabed CO2 Storage: Impact on Marine Ecosystems (WP leader, Lead PI and SSC member)
EU Framework VII: EPOCA, European Study of Ocean Acidification (PI)
EU Framework VI: CARBOOCEAN. Global biogeochemical cycles (PI)
Norwegian Research Council: Southern Ocean Biogeochemistry and Research (SOBER) (PI)
Norwegian Research Council: IPY Bi-Polar Atlantic Circulation (BIAC) (PI and Work Group leader)
NFR Antarctic research NARE, Southern Ocean Variability - Contemporary to Paleo Trends (PI)
UiB LOCUS: Mesocosm studies of climate change on marine ecosystems (PI)
Paper:
Competitive fitness of a predominant pelagic calcifier impaired by ocean acidification. Nature Geoscience, 2016.
Marine phytoplankton dynamics in contrasting early stage North Atlantic spring blooms: composition, succession, and potential drivers. Biogeosciences, 2015, 12: 2395-2409
Salinity from Space Unlocks Satellite-Based Assessment of Ocean Acidification. Environmental Science & Technology, 2015, 49: 1987-1994
Fluxes of carbon and nutrients to the Iceland Sea surface layer and inferred primary productivity and stoichiometry, Biogeosciences, 2015, 12: 875-885,
Response of halocarbons to ocean acidification in the Arctic. Biogeosciences, 2013, 10: 2331-2345
Effect of increased pCO2 on the planktonic metabolic balance during a mesocosm experiment in an Arctic fjord. Biogeosciences, 2013, 10: 315-325
Temporal biomass dynamics of an Arctic plankton bloom in response to increasing levels of atmospheric carbon dioxide. Biogeosciences, 2013, 10: 161-180
Pelagic community production and carbon-nutrient stoichiometry under variable ocean acidification in an Arctic fjord. Biogeosciences 2013, 10: 4847-4859
Variation in particulate C and N isotope composition following iron fertilization in two successive phytoplankton communities in the Southern Ocean. Global Biogeochemical Cycles, 2011, 25(3): GB3013
Ocean acidification increases bioavailability of iron, Biogeosciences, 2010, 7: 1065-1073
Phytoplankton calcification in a high CO2 world. Science, 2008, 32: 1466b
Counterintuitive food web response to organic carbon enrichment in an arctic pelagic ecosystem. Nature, 2008, 455: 387-390
Enhanced biological carbon consumption in a high CO2 ocean. Nature, 2007, 450: 545-549.