Li Xiaoping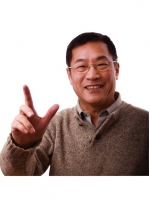 Research Interests:
Ecological Restoration
Eutrophication Control and Soil/Sediment Remediation
Email:
xpli@sklec.ecnu.edu.cn
lixp_2008@hotmail.com
Address:
Zhongshan N. Road 3663,Shanghai 200062, China
Education Experience:
D.Sc., University of California (Davis), USA (1998)
M.S., Delft, (1989)
M.S., Northeastern University of China (1981)
Work Experience:
Researcher, USEPA Center for Ecological Health Research (1998-1999)
Deputy Director, Shanghai Academy of Environmental Sciences (2004-2009)
Professor, ECNU (2009-)
Paper:
1. Long-term changes in nutrients and phytoplankton response in Lake Dianshan, a shallow temperate lake in China. Journal of Freshwater Ecology, 25(4), 549-554, 2010.
2. Design and performance of a water quality treatment wetland in a public park in Shanghai, China. Ecological Engineering, 35, 18-24, 2009.
3. Soil bioengineering and the ecological restoration of riverbanks at the Airport Town, Shanghai, China. Ecological Engineering, 26, 304-314, 2006.